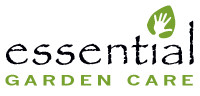 Many of our landscaping clients wanted us to maintain their gardens…
Introducing Essential Garden Care.
We would like to offer you our expertise and enthusiasm to care for your investment… your garden.
Reasons to trust your garden with us:
Experience — proactive, preemptive.
We pride ourselves on our horticultural knowledge.
Service — appropriate, honest, reliable, efficient.
Why pay for unnecessary maintenance?
Always listening — it's your home. Communication is the key.
A garden needs to reflect the owner's wants and needs.
Protect and allow your investment to appreciate with your home. More than any part of the home, the garden needs a constant guiding hand
Keep your free time for yourself. Life is busy; toiling in the garden isn't everyone's idea of relaxation.
Tailored programming when required, not just by the calendar. We assess and care for gardens on an individual basis; some gardens need more or less care at particular times of the year and we work with those needs to provide a value service.
Contact us on 1300 725 567 or email: essential@s-ense.com.au
Manager: Rob Butler
A branch of S-ENSE Landscapes